LYNGO THEATRE
LYNGO is a UK based children's theatre company with strong Italian connections. Our shows have delighted children and adults for 20 years with their unique mix of fun and beautiful imagery, working magically together to reveal the vivid poetic realm that is at the heart of our work.
Our trademark features are a singular visual flair, an inventive use of props -beautifully designed and hand-made 'theatre toys'- and an interactive and genuine approach to play, no matter the age of our audience.
Lyngo has currently on offer a repertoire of end-on shows for older children (3-10 years) and in-the-round interactive shows for a very young audience (1-5 years)
"Lyngo knows the score when it comes to producing theatre for the very young. " The Stage
NEWS
THE LITTLE PRINCE, OUR NEW SHOW FOR 2024
Lyngo Theatre are very delighted to announce their new production for Spring 2024 – The Little Prince – in collaboration with
Norwich Puppet Theatre.
Beautiful puppetry, along with Lyngo magic, will ensure this a production that is faithful to the poetic humour of the
original text while making this 80-year-old classic accessible to a modern audience aged 4 and over.
2-hander.



LITTLE RED RIDING HOOD AND MORE!
After a brief pause (!) we came howling back this Christmas (2021) with our new show Little Red Riding Hood which played to sell-out shows over November and December at Lighthouse Poole and Waterside Sale.

It occurred to us at the start of our development that this is a story all about dressing-up and pretending to be someone else so the idea of using a wardrobe as our set seemed obvious.

Thanks to a generous grant from the Arts Council we were able to develop all sorts of ingenious ways of using this magic container of clothes and in our show it becomes a dimensional portal with constantly changing contents, secret doors and hidden panels.

Of course Marcello Chiarenza was there to help with design and directing and Cialdo wrote more fantastic music and songs. We were also very lucky to have the amazing Francesca Anderson performing, along with Patrick Lynch. Edmund Sutton supported all behind the scenes.

It's had great feedback such as "50 minutes of pure childhood joy!" (number9reviews) and is perfect for ages 3-8

Because the set consists of a wardrobe it is perfect for studio and mid-stage but can also do non-traditional spaces.

It's not just a Christmas title though - we'll be playing it throughout the year in various theatres - and we're taking bookings now for 2022 and 2023.
PLAY@HOME
The Gift of Winter
Lyngo has developed a way to have that Christmas show experience for those of you who are not able to get to the theatre this year. It is a creative-play project for families with children under 10 which will get you ready for your big celebration.
In the beginning of years, when the world was so new, the four seasons lined up to get their colours and crowns, their toys and their moods. When it came time for Winter there was nothing left exept a wet white blanket which made him so sad that he pulled it over his head and wouldn't come out to play... until a child took him on a journey through a garden of delights, climbing the ladder of the trees up to a shining star...
Lyngo Theatre have developed a show that you can actually do at home, not just watch! By following our fun instructional videos in the weeks leading up to Christmas, you'll make props and table-top sets from recycled materials and household objects, invent your own sensory sessions and take a creative-play journey together as a family through a garden of delights. We'll provide music, songs and narration so you can tell the story of how Winter got its colours, creating your own Christmas tree (with some very special decorations). At the end of this you'll have made, played and stayed together which, after all, is the true meaning of Christmas!
Our Jack wins 'Best Family show' at the International Youth Arts Festival 2019!
THE LITTLE PRINCE
AGES 4+, TWO PERFORMERS
Look up at the sky
Is it yes or no?
Has a sheep on a star
Eaten a flower you don't know?
One of the best-selling children's books in history, is a story known all over the world.
Spanning time and space it shows us that the most important things in life are invisible and can only be seen with the eyes of the heart.
"Everything is so small where I live" says the Little Prince and he decides to visit earth, thanks to a passing flock of space-birds. It's there that he meets the aviator, the one adult on earth who still remembers what it is like to be so small and who knows that nothing in the universe can be the same if somewhere, we do not know where, a sheep that we never saw has - yes or no? - eaten a rose . ..
Click on the photo to open the gallery.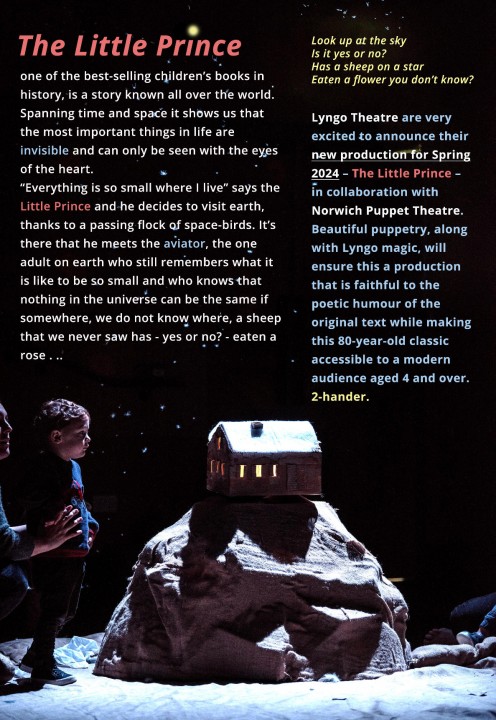 NOVEMBER

25th

Courtyard Theatre Hereford

Little Red Riding Hood

DECEMBER

9th and 10th

December Newhampton Arts

Little Red Riding Hood

DECEMBER

9th

Dorchester Arts

Snow Play

DECEMBER

12th – 24th

December Stafford Gatehouse

Snow Play

DECEMBER

16th

Cranleigh Arts Centre

Snow Play

DECEMBER

18th-24th

Cornerstones Arts

Heart of Winter

DECEMBER

19th-23rd

The Horton Epsom

Snow Play

DECEMBER

21st-29th

Story Museum, Oxford

Tom Thumb
TOM THUMB

Duration: 45 minutes, no interval.

Performers: 1

Get in 3 hrs, get out 1 hr

Space required: 5x5x3m

Maximum audience: 300

Ages: 3+

THE FISH'S WISHES

Duration: 45 minutes, no interval.

Performers: 1

Get in 3 hrs, get out 1 hr

Space required: 5x5x3m

Maximum audience: 300

Ages: 3+

WATCH THE BIRDY

Duration: 50 minutes, no interval.

Performers: 1

Get in 3 hrs, get out 1 hr

Space required: 5x5x3m

Maximum audience: 300

Ages: 3+

THE DUSTMAN

Duration: 50 minutes, no interval.

Performers: 1

Get in 4 hrs, get out 1 hr

Space required: 5x5x3m

Maximum audience: 300

Ages: 5+

HANSEL AND GRETEL

Duration: 60 minutes, no interval.

Performers: 2

Get in 5 hrs, get out 1 hr

Space required: 6x6x3m

Maximum audience: 400

Ages: 4+

ROOM IN THE SKY

Duration: 50 minutes, no interval.

Performers: 2

Get in 5 hrs, get out 1 hr

Space required: 6x6x3m

Maximum audience: 400

Ages: 4+

SNOW PLAY

Duration: 50 minutes, no interval.

Performers: 2

Get in 4 hrs, get out 1 hr

Maximum audience: 400

Ages: 3+

KNICK KNACK AND DOO DAD

Duration: 60 minutes, no interval.

Performers: 2

Get in 4 hrs, get out 1 hr

Maximum audience: 400

Ages: 3+

JACK AND THE BEANSTALK

Duration: 50 minutes, no interval.

Performers: 1

Get in 3 hrs, get out 1 hr

Maximum audience: 300

Ages: 3+

EGG AND SPOON

Duration: 40 minutes, no interval.

Performers: 1 or 2

Get in 3 hrs, get out 1 hr

Space required: 9x9x3m

Maximum audience: 40 children - no set limit on adults

Ages: 1-5

CIRCUS MINIMUS

Duration: 40 minutes, no interval.

Performers: 1 or 2

Get in 3 hrs, get out 1 hr

Space required: 9x9x3m

Maximum audience: 40 children - no set limit on adults

Ages: 2-5

WHAT A WONDERFUL WORLD

Duration: 40 minutes, no interval.

Performers: 2

Get in 3 hrs, get out 1 hr

Space required: 9x9x3m

Maximum audience: 40 children - no set limit on adults

Ages: 2-5

PUSS IN BOOTS

Duration: 50 minutes, no interval.

Performers: 1

Get in 3 hrs, get out 1 hr

Maximum audience: 300

Ages: 4+

THE CURIOUS ADVENTURES OF PINOCCHIO

Duration: 1 hr, no interval.

Performers: 1

Get in 4 hrs, get out 1 hr

Maximum audience: 300

Ages: 5+

Download full tech. spec. here

THERE AND BACK AGAIN: AN ODYSSEY

Duration: 1 hr, no interval.

Performers: 1 + live projection

Get in 3 hrs, get out 1.5 hr

Maximum audience: 300

Ages: Adults and children over 6

HEART OF WINTER

Duration: 60 minutes, no interval.

Performers: 2

Get in 6 hrs, get out 1 hr

Space required: 6x6x3m

Maximum audience: 400

Ages: 3+

Download full tech. spec. here
Tom Thumb
Lyngo Theatre presents
TOM THUMB
A show by Marcello Chiarenza
Adapted by Patrick Lynch
Music by Carlo Cialdo Capelli
Design assistant Elena Marini
Ages 3+
One night tiny Tom overhears Mum and Dad talking - there's nothing left to eat so they are going to leave him and his six brothers in the forest! Outwitting his parents and the ogre Tom shows everybody that even though he is small he is still mighty as he protects his brothers, finds the treasure and makes sure they'll never be hungry again. Performed entirely on and under a kitchen table this classic story is brought to life in a playful and fascinating show full of Lyngo's magic with feathery spinning birds, a flying house and a portable forest. Come and join tiny Tom on his very big adventure!
REVIEWS
Hands down, Lyngo Theatre's production of Tom Thumb, at the Nuffield Southampton Theatres, is the best piece of children's theatre I have seen to date. Aimed at children aged 3+, Tom Thumb is beautifully visual, with use of handmade props and set. Shabby chic, inventive and unique, this production is 'the wooden train set of young theatre', compared to 'the Fisher Price kitchen set styled theatre' I have seen previously.

The story followed the famous poetic tale of Tom Thumb, proving that despite being tiny, he can still save his brothers from the great ogre. The ogre was portrayed using a ram's skull. Although slightly nightmarish, this created the perfect monster, and, with the the use of a red wash, the creation of shadows heightened the experience, increasing the ogre's magnitude. The approach to the play was genuine and simultaneously completely original.

The set consisted entirely of an old kitchen table; on it sat a model house with internal lights attached to a rope and carabiner. The table had two draws which were also self-lit. The small, intimate set was lit by a vintage, squirrel cage light bulb, shaded by a symbol. The light was suspended by rope, attached to a window frame which Tom often peeped through to tell parts of the story. The use of props was genius. The creation of birds was done with kite poles attached to origami bird structures. The migration of the bird across the stage was fluid and, with the combination of bird song soundscape, the invention was magic.

The developing seasons was imaginative and executed with flair. Snow was shown through the gentle cascading of feathers from a material bag attached to the lighting rig, which could be tugged by rope to release. This created the paragon effect of a snowy day, with feathers sticking to branches and forming a white blanket on the ground. There is something enchanting about the falling of snow, and Lyngo Theatre captured that essence flawlessly. A rainy day was conjured using an upside-down bottle of water pierced with holes attached to an umbrella. This was compelling and added a charming absurdity.
The story was retold by a one performer, taking on the role of narration, as well as characters, such as Tom Thumb, mother, father, the ogre and the old lady. His used of voice, changing in accent and dialect allowing for the subtle shift of character, without the need for a change of costume.

The soundscape, designed by Carlo Cialdo Capelli, alluring, bringing the fairy tale to life, whilst also creating a slightly eerie undertone. The wandering minor scales and chimes of the glockenspiel created the passing of time. And finally, the addition of the lullaby, sung live, brought warm and sleepy atmosphere to the stage, drawing the performance to an end. This performance provides an enchanting adventure through the forest, perfect for children and parents.

Reviewer - Grace McNicholas
on - 30/3/19
https://number9reviews.blogspot.com/2019/03/review-tom-thumb-nuffield-southampton.html?m=1
Yesterday we had the pleasure of attending Sherman Theatre to see the first performance of Tom Thumb, brought to the stage by Lyngo and starring Patrick Lynch. This story tells a tale of a tiny boy called Tom, who overhears his parent's plan to take the children to the forest and leave them there because of their poverty stricken life. Tom has other ideas though, and he won't give up on returning home to be with his parents…
I had no idea what to expect from this performance, but I was pleasantly surprised as it unfolded into a magical fairy-tale via Lynch's beautiful performance. The stage was set with various contraptions and the props were so cleverly created; I particularly adored the use of pulleys, magnets and magical moments of inspiration. These constructions were imaginative and I felt as though I was watching my own children create and play with the various sensory instruments.
The music and lighting added extra sensory elements, and reinforced the magical intimacy created by Lynch. Lynch performs with a childlike manor, offering a gentle and interactive character to the audience. He is mesmerising as Tom, as well as various other characters, and the costume and props allow him to flit between the different characters in order to tell the story.
Lynch also offers a very calm and soothing environment, drawing us into Tom's world as the story unfolds. I loved how he interacted with the audience and how relaxed the atmosphere felt. With gorgeously simple yet effective special effects (think water, movement, feathers…) this show is a glorious example of imagination and heart.
I implore you to catch this performance! https://kellyallenwriter.com/review-tom-thumb-at-sherman-theatre/
COMMENTS
On Saturday we were back at @halfmoon_theatre , this time to see Lyngo Theatre's Tom Thumb. It's a one man show all performed on and around an old kitchen table with the most magical use of simple handmade props to create beautiful worlds. A tiny cardboard house, paper birds, a forest of branches and a mesmerising snowfall of fluffy white feathers. I think it's the best children's theatre show I've ever seen. Partly because it didn't feel like a show for children - they weren't underestimated and nothing in the performance was overly simplified or hammed up for their sake. It also didn't shy away from the more sinister elements of the story. I get infuriated by the sanitisation of fairy tales. I remember an account on here declaring that fairy tales aren't suitable for young children and saying that he tells his kids the story of Hansel and Gretel without the witch or the child abandonment... This story of Tom Thumb has similar themes, with the brothers left in the woods when their parents can't afford to feed them. They end up in the house of an ogre - brought to life with a completely nightmarish cow's skull - who plans to eat them but is tricked into eating his own daughters instead. The entire show is billed simply as suitable for 3+ and is a shining example of masterful storytelling. Sadly it doesn't look like there's any more performances coming up, but apparently it's been on tour for more than 10 years so I'm sure it will be back, and I'm excited to see more from Lyngo Theatre.
Tom Thumb by Lyngo this morning was stunning. Agile performance and incredible stage props. Brilliant storytelling that captivated young and old. Autumn was magical. Catch Jack and the Beanstalk on Friday and Saturday.
Went to see Tom Thumb today in the civic with my daughter it was magical she hasn't stopped talking about it all day so much work and imagination went into producing it well done lyngo theatre.
Just been to see Tom Thumb at Wakefield Theatre with my son and it was brilliant! So well told and funny at the same time.
Just saw Tom Thumb with our 3 year old at the Town Hall in Newtownards. What an excellent show! Well done to all involved. Our son (and us) absolutely loved it!
An atmospheric storytelling, visually beautiful, it completely drew you in, maybe a bit too much for my six year old as she was scared of the Ogre! My three year old chuckled at the ogres gruesome meal! They loved it especially the magical representation of the birds and the snow. Thank you for an enchanting show. My mum took my children today (ages 6 and 9). They loved it. It was a delightful production with ingenious and inventive props and effects, a sprinkling of humour throughout, one slightly scary bit (but OK!) and a slight wetting for those in the front seats!
Took my two boys today to see Tom Thumb. I enjoyed it as much as they did. We loved the simplicity. I was struck by the bare bones of it. It was magical, and beautiful, and funny too, and yet barely any props at all, and just one actor, but they were enough and more. I would make every effort to see more performances. Please come back to the IOW.
We were lucky enough to see the fantastic Tom Thumb show today at The Beggar's Theatre in Millom. It was wonderful. Spellbinding storytelling and an incredibly ingenious and imaginative set. A superbly professional and assured performance that just enchanted my children. Thank you so much. This is the sort of inspiring theatre I love my children to see. Cannot recommend highly enough. Go see this if you can. And if you can't, cancel whatever it is that's stopping you!
We saw Tom Thumb last year, and Jack and the Beanstalk in Leeds on Sunday. Both beautiful, enchanting and engaging. Would recommend to anyone whether they had children or not.
Wonderful production yet again at the Stafford gatehouse today. Thanks for all your hard work which always mesmerises and captivates our children's imaginations. Very much looking forward to seeing Tom thumb
Saw tom thumb today,in Drogheda.what a whimsical delight on an autumnal afternoon.the physicality,music,command of an excited audience,what an array of exciting props,and just the right length of time for the lil ones at the show, Bravo!! Emma,41 and a half and Laoise,3 and a half — feeling grateful.
I had the absolute pleasure of seeing this amazing one man show, Tom Thumb, yesterday at the Palace Theatre Dixon studio, Southend.
My daughter was fascinated by the bird and here you can see how her questions were answered.
Amazing production of Tom Thumb! The use of space; the creativity; and way Tom captured the imagination of the children was amazing. A must see...
'We were very lucky to be at the performance of 'Tom Thumb' today at the Riverbank, Newbridge. It was absolute magic, incredible well paced and engaging. Kids loved being part of the whole experience. The play a breath of fresh air and to see the use of natural elements on stage is lovely. We will have so much to talk about at bed time tonight and so much to be grateful for when we remember Tom's story. Thank you, please come back soon!' FB
'Thoroughly enjoyed yesterday's performance at the Sherman theatre. The props used (snow and water) were great. Highly recommended people to go see the story of Tom thumb' FB

'Brilliant Tom Thumb show from @LyngoTheatre . Amazing storytelling and awesome props. Children's first theatre experience and they loved it! It was absolutely beautiful.' TW
'Visually stunning, creative, engaging and in Ivy's words 'an engineering masterpiece'. @LyngoTheatre 's Tom Thumb at @arcstockton is amazing! Do yourself a favour and get yourself tickets for the 2.30pm show! Storytelling at its best!' TW
'My 4yr old and I were completely enchanted by this magical children's theatre performance of Tom Thumb. A one man show set entirely on/in/around a table. Lovely music, really clever and inventive use of minimal, beautifully designed props. Highly recommended' FB

'(...) Genuinely enchanting children's theatre. This was an intimate, really magical and inventive performance - it succeeded on every level. TW
'Just watched Tom Thumb at Tunbridge Wells. Fantastic production with effecrive staging. Really enjoyed this version of the story. My girls thought it was great fun.' FB
'I went to see Tom Thumb at Darwen Library yesterday performed by Patrick Lynch (from Cbeebies) and Lyngo Theatre - really excellent performance the grandchildren loved it - I definitly recommend this show if it is on near you take the kids / grandkids - well worth it' FB
'Wonderfully magical adaptation & production of Tom Thumb...my 6yr old son was enthralled and really engaged with the dialogue of Patrick Lynch during the 1hr show which seemed much less...We would most definitely go again...highly recommended by a hard to please 6yr old' FB
'I took my two children to see Tom Thumb at the Lighthouse, Poole. Thank you for giving them a fabulous and magical introduction to the theatre. They were spell bound...I enjoyed it too!' FB
'Loved the use of simple devices to stir the imagination. Patrick Lynch drew you into his world.'
'Great actor, wonderful storytelling, ingenious props.'
'I thought the birds were brilliant.'
' "exelunt show", from Abigail, age 7, front row with hie hill shoes...who touched the cows head.'
'Oscar loved the things you have made, Georgia loved the way it was life-like and mysterious, Pete loved the snow-tree, I loved the music and the beautifully put together whole.'
'What I liked was the way you adapted parts of the story to fit the props (not the other way round). The gadgets were captivating for the children, and the way the sticks for example represented the big forest. It was stimulating for my little sisters because they had to think about it.'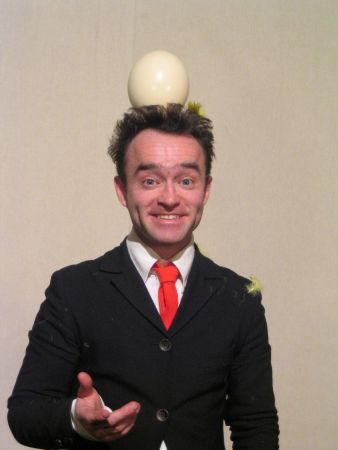 PATRICK LYNCH
Writer, actor and artistic director
Patrick Lynch has specialised in children's theatre since 2003, after a wide-ranging career in theatre, television and film and academia. He studied psychology at Glasgow University and then dramatherapy and worked for many years with special-needs groups. He has worked extensively in Europe in theatre-forms like Commedia dell'Arte and clowning. In the UK he has acted and directed for companies like Oily Cart and been a workshop and project leader for many organisatons. Since 2006 he has been presenting television programmes for the BBC on their channel Cbeebies.
For more details or to send your comments please contact:
PATRICK LYNCH

Artistic director/Manager

patrick@lyngo.co.uk

tel: 07957 134943

ELENA MARINI

Design/Manager assistant

patrick@lyngo.co.uk

tel: 0039 041 721384

POST

Lyngo Theatre

6 Hilltop Avenue

Cults

Aberdeen

15AB 9RJ